Florence wedding photographer: the magic to be in the cradle of Italian art
Why a wedding in Florence? Because it is not a simple city. You can be sure that Florence is a city for lovers. For me it is a big honor to be a Florence wedding photographer and I want to show you the emotions and the feelings I experience every time I accompany a couple in their fairytale wedding day.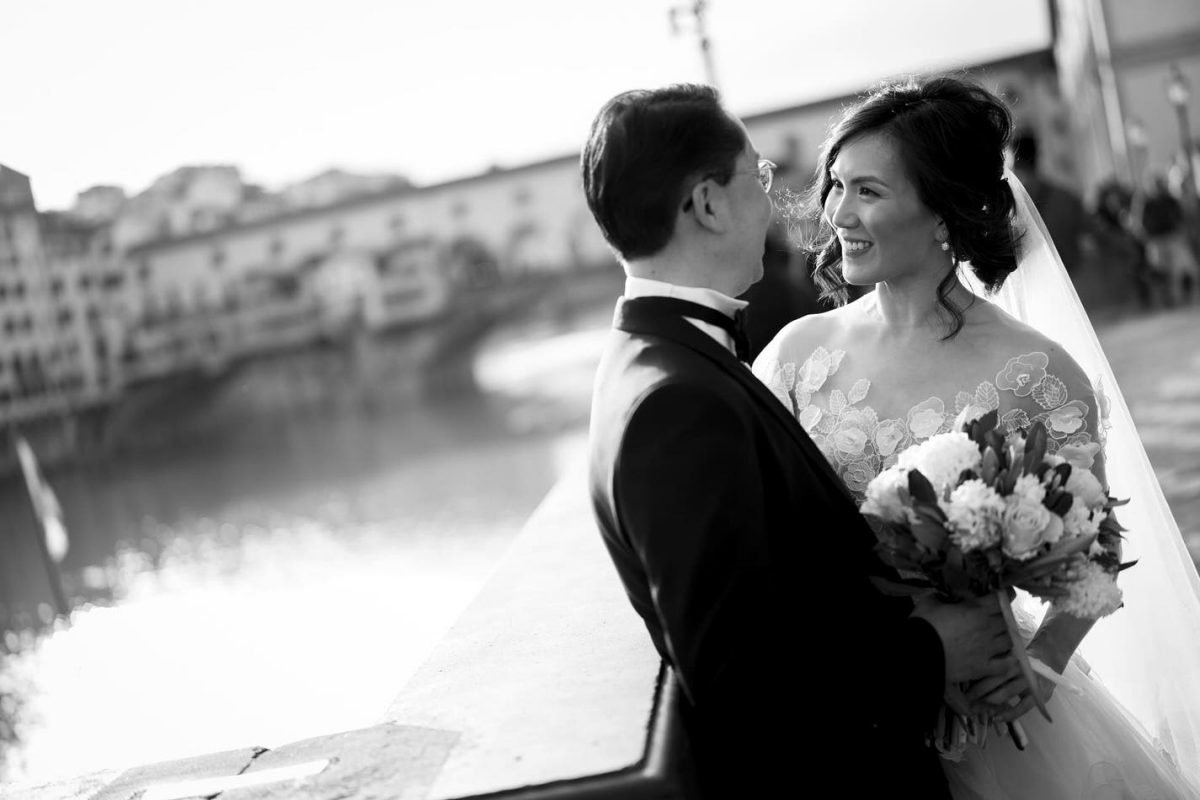 Florence Wedding Photographer
Every marriage is something unique, and I thank from heart for this magic around when I realize a wedding photography service. Florence is the cradle of Italian art and language, a place full of culture, history, tales that narrate the birth and the growth of our society. Therefore, here you will find incredible artworks, architecture and viewpoints from which you will admire all this majesty. I am sure this represent your dreaming wedding venue. Isn't it?
Inspiration for Florence wedding venues
Are you dreaming of a wedding in Florence? The wedding destinations in Florence are ready to surprise you. Immerse yourself in the charm of Tuscan culture and art. A few minutes from the city, you can organize a wedding at Villa Gamberaia, famous throughout the world for its monumental gardens.
In Florence, you can also decide to get married in Queen Victoria's favorite residence for her holidays: Villa Palmieri. Even today, the original furnishings by that period are located in the structure, a symbol of Italian luxury and great artistic style.
A Florence wedding venue that I love, as a wedding photographer, is the Four Seasons hotel. Here the ancient architecture joins the most modern solutions, for a timeless charm. If you are looking for something even more exclusive, a wedding at Villa Cora is for you. The "Hall of Mirrors" is considered one of the most beautiful salons of all the time.
What does it mean to be a Florence wedding photographer?
I know it's your special day, but I also want to tell you a little about our emotions during the wedding experience. This is the difference between a very professional wedding photographer and the others. The sensitive to live the same feelings of the spouses give me the capability to impress them in my pictures. This will give you a remember not only of the event, but also of every single heart beat, every look and every sweet thrill you will exchange each other.
For this reason, the wedding venue is important. Florence will be the perfect frame of your love. Think about the beautiful artworks you could have in your photos. Florence has some of the most important history testimonies, masterpieces that attended to ancient immortal love stories are now here for you, to witness your love with our help, during your fairytale wedding. Now you understand why I am considered the best Florence wedding photographer, famous for my professionality, and why this is the best choice for you. I know Florence very well and I will give all the tips and the suggestions to realize a perfect luxury wedding photography service.
Florence wedding photography: you deserve a fairytale luxury wedding
Both you choose a religious wedding or a civil one, you can have the best Florence wedding venue for a luxury event, like you dream. There are wonderful churches available, but also incredible buildings were we can have the party and take pictures. You can decide to come in Florence for the wedding ceremony, but also for the honey-moon or for a pre-wedding proposal or for engagement photography. Every occasion will be perfect in your Florence wedding venue. Around the city you can take photos at Ponte Vecchio, one of the most important symbol of Florence. Otherwise, you can enjoy the incredible view from Piazzale Michelangelo; than, we can go across the streets, where you will be surprised from every little and romantic hidden corner you will discover.
Elopement Wedding in Florence
Our work like Florence wedding photographers will be not only to take pictures, ma also to help you to find the right moment and to suggest you how to bring the best from every scenography. Our experience in luxury weddings will guarantee you the best result will be possible to have: we have witnessed various kinfd of marriages, both Catholic and Jewish marriages in Florence for example, and we know how to catch the best from every situation.
Fairytales Wedding in Florence
Outside the city, you can find the most beautiful countryside of the region Toscana, ideal venue for a wedding photography service. There are also some castles near Florence. Italy is full of artistic treasures. In a castle you can have the ceremony, take the pictures, accommodate all your relatives and friends and spend time like the princess that lived in its walls in the past.
Florence is not only art and history: it's also nice people, sweet music, tasty food and good wine. So, you will have some of the most nice time in your life and you will bring the memories in your heart forever, together with the feelings of your love.
Do you want your dreams come true? Elopement wedding in Florence
If you are so romantic to dream about castles in Florence, princess and immortal love stories, maybe you're here to celebrate in the most romantic way: with a elopement wedding in Florence. Escape from the daily life, to reach a real paradise for lovers, where to exchange your handwritten vows. A lot of couples every year choose this solution to profess their love. I will be not only your expert Florence wedding photographer, but also a confidential witness of your feelings.