History of a love: Rome wedding photographer
Rome is the most enchanting city in the world. It is Italy's capital city, and one of the richest in history and artistic treasures. Rome will be the perfect backdrop for your luxury wedding ceremony. I am a famous Rome wedding photographer and I will guide you across the beauty of the city, looking forward to impress your love in every picture with the help of the incredible scenery you will find here.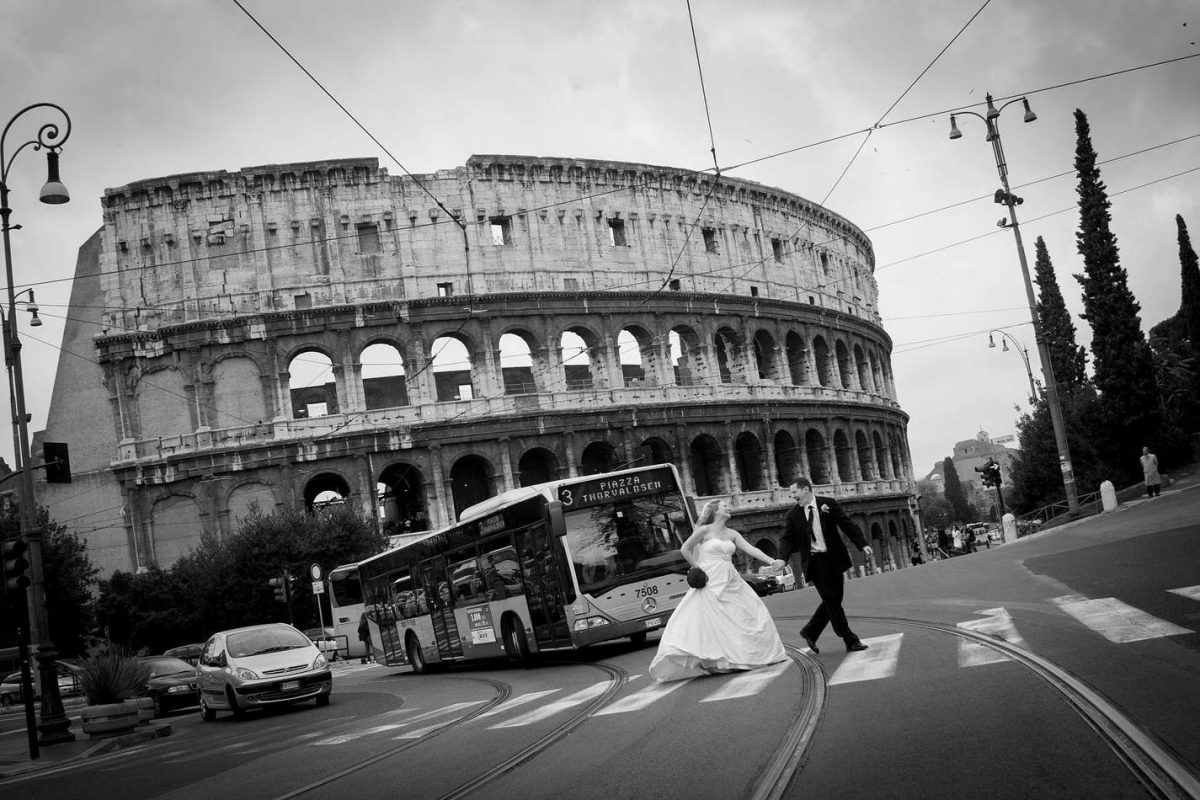 Luxury Wedding in Rome
Do you know why so many couples choose Rome every year for their exclusive weddings? Both civil and religious ceremony will have the ideal venue. Rome is a very complete and organized city. You will easily reach all the parts of the town from the international airport, and you will find many exclusive locations where you can accommodate your guests. Therefore, Rome is perfect if you dream a big ceremony and a fairytale wedding worthy of a princess. However, it is also romantic if you are searching for an elopement wedding in Rome.
Inspiration for wedding venues in Rome
Rome, with its historical and artistic heritage, is the most loved city in the world. A wedding in Rome will undoubtedly be a memorable event, which you will carry forever in your heart.
If you dream of getting married in the city, there are residences that offer spouses everything they could want. Take inspiration from a wedding at Villa Miani, a neoclassical residence overlooking the entire city.
In order not to renounce a wedding by the sea, while remaining close to Rome, you can be inspired by a wedding at La Posta Vecchia, Ladispoli, an elegant estate that awaits you with all the comforts of an extra-luxury 5-star hotel.
Wedding in Rome: the best venues for your ceremony
Rome is a perfect combination from historical treasures and modern architecture. Walking through the streets of the city, during our wedding photography service in Rome, you will admire in front of your eyes the beauty of ancient ruins, dating back over 2000 years ago: Colosseum, Arch of Constantine, Roman Forum just to nominate some of them. These artworks are placed just next Renaissance buildings, like Spanish Steps and Trevi Fountain, unmissable locations for your exclusive wedding photographs in Rome.
Fairytales Wedding in Rome
If you are thinking about a religious Catholic wedding, you can count on some of the most beautiful churches in Italy and in the world. Rome is also papal seat, and religion is an integral part of the city life. However, Rome is a big international city, and it hosts Orthodox churches, Protestant churches and even Jewish synagogues for Jewish weddings in Rome.
Destination Weddings in Rome
In every wedding venue, we can take photos among some of the most enchanting Italian treasures. A renaissance palace will be the perfect location for your civil wedding in Rome, where you can take the ceremony and the reception, perhaps with a dance party in the evening.
All your dreams will come true. A lot of couples come in Rome also for a symbolic wedding ceremony. Maybe you do not want, or cannot, engage with a legal ceremony, but you deserve to celebrate your love in the best wedding venue, and to exchange your vows of a life together.
Rome wedding photographer: I do my best in every occasion
The eternal majesty of Rome will witness your feelings, every ceremony you will choose to celebrate. From the little and intimate wedding with just few friends or relatives, to the big luxury wedding party, we will take the best from every moment. Think about to escape from the reality of your country and your daily life and fly in Italy to celebrate your love. Is it not the most romantic dream you can have? So, make it true. Elopement weddings in Italy are the most appreciates, and Rome is one of the favorite venue for a special wedding and a romantic getaway
Of course, we are used to assist couples for beautiful Rome photographs also for honeymoon or wedding proposal. Every moment in your life is important, and with my experience like wedding photographer in Rome we will make it perfect. A journey in Italy, visiting Rome and taking some professional photos will be an unforgettable occasion also for renovate your love, for renew your wedding vows in an amazing way.
By the way, in Rome your will taste the best of Italian cuisine. There are intimate and romantic little restaurants where you will celebrate your fairytale wedding and promise your eternal love. I will be a discreet and silent witness, my work like Rome wedding photographer will be to impress in my pictures the memories of the special day forever.