Ravello wedding photographer: an exclusive wedding venue
Ravello is a little city located in Amalfi Coast, and deserves to be mentioned like a luxury and exclusive wedding venue. Wedding here is something unbelievable and I am pride to be considered like one of the most famous Ravello wedding photographer, because every time for me is a great emotion to live.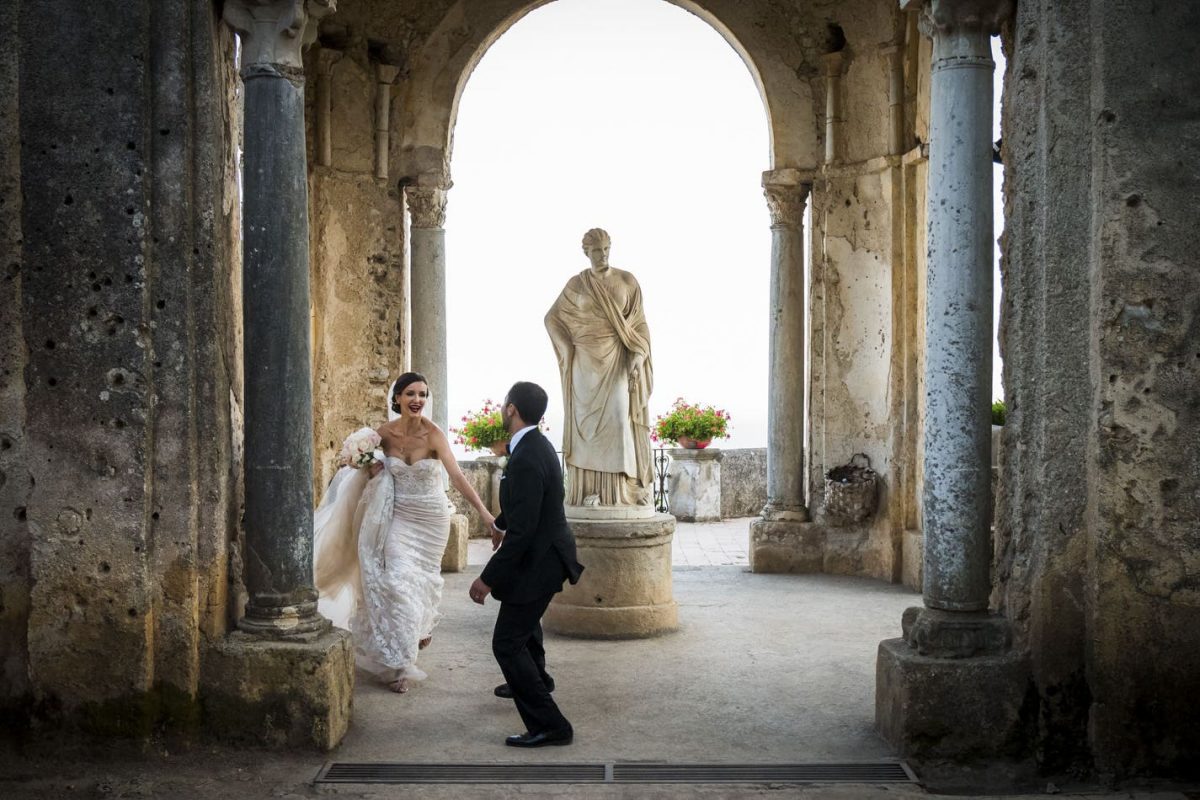 Fairytales Wedding in Ravello
Ravello is one of the most requested locations for elegant and refined destination weddings on the Amalfi Coast. This village has a natural charms and elegance, breathtaking views on the sea and on the Amalfi Coast and a perfect organization for events.
Inspiration for Ravello wedding venues
Any corner of Ravello is so beautiful that it is a perfect background for your love on your wedding day. How to choose the right Ravello wedding venue for you?
Let your heart guide yourself, you will not be disappointed. I can give you an inspiration with my photos, for example for a wedding at Villa Cimbrone, an ancient residence overlooking the sea.
Even weddings at the Hotel Caruso are memorable events: a whole staff of professionals are ready to pamper you and satisfy your every wish.
Ravello wedding photographer: catch the feelings of a magic place
You can be sure: with a Ravello wedding, all your dreams will come true. Get inspired from the magic of this location, we can feel the love around. The sweet breeze from the sea will be like a caress on you, and a romantic Italian music will be the perfect background of the moments you will spend at the village.
Ravello is a terrace overlooking the blue sea of the Amalfi Coast. Many famous and intellectual people felt in love for Ravello during its history: Wagner, Toscanini and Greta Garbo are some example. So, Ravello wedding venues are so beautiful because of its fascinating culture, the monuments, but also because of the nature around the village. From the panoramic points, you will admire one of the most beautiful landscape of Italian coast. Luxury wedding in Ravello are the ideal choice for elegant couples searching for an unforgettable ceremony.
Destination Weddings in Ravello
We are Ravello wedding photographers, expert in civil, religious, symbolic weddings, but also in more intimate elopement weddings. Every event is the right one to escape from the daily life and to come in this such amazing place. You will find beautiful hotel, villas, residences and restaurants. Everything will be perfect and we could organize a fantastic Ravello wedding photography service during all the day.
Ravello Wedding Photographer
If you are married, you could think about to come in Ravello to renew your vows and to give new energy to your love. It's important to keep the fire of passion and love burning during the years. And what about young and new couples? Ravello is the perfect destination for your Italian holidays, and you could take advantage of it for a romantic wedding proposal. In each of these cases, a photoshoot in Ravello will be a special memory of this incredible experience
Ravello wedding venues: the best for every kind of fairytale wedding
You can take a leaf from the many exclusive wedding of celebrities they come to celebrate here. Every year Ravello hosts beautiful models, actors and actresses, all impressed from the incredible locations. Ravello weddings are always artworks and we are used to make our best to catch every single special moment of your day.
Fairytales Wedding in Ravello
We attended to many kind of weddings in Ravello: it can be a perfect location also for Jewish weddings, for Asian weddings and for every ceremony you dream in your mind.
Also if you're searching for a little more intimate wedding, Ravello can be the right choice. The magic of the place are the perfect frame for every kind of ceremony and your photos will be the best remembers forever. Just you and your love, with few friends, living a fairytale wedding in Ravello: feelings, emotions, love, but also dance, joy and good food. A real Italian style wedding is waiting for you.